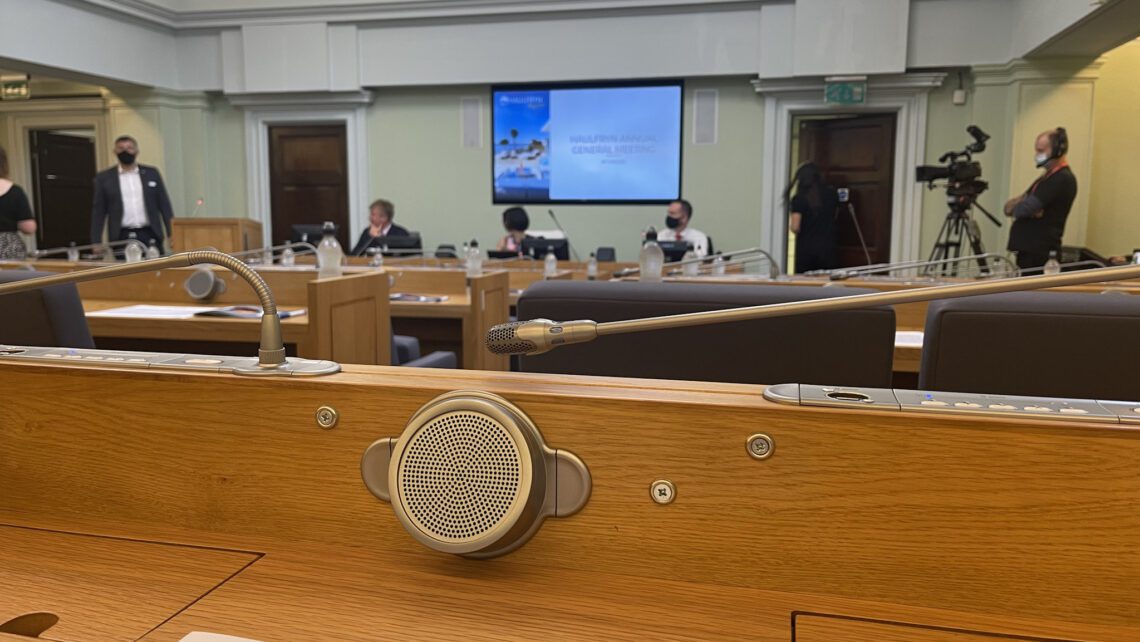 The team at Perception Remote facilitated the Haulfyn Group 2021 AGM at The Law Society. Their previous experience at the 2020 AGM was completely virtual using Zoom and wasn't ideal.
This time, their preference was to welcome shareholders in person.
Due to the limiting government guidelines, the decision was made to host a hybrid AGM. Both in-person and virtual audiences would be able to interact with one another. Added to the complexity, a speaker in the virtual world was the outgoing Director after completing his term in office. Overall, the experience was designed to be engaging and seamless.
Perception Remote's portable hybrid meeting system features:
2 PTZ cameras, broadcast cameras, a Vmix system, and a virtual stage. It also has a digital audio system (consisting of d&b speaker), and an Allen & Health digital sound desk. Also, included is the Bosch Next-Generation wireless system featuring 100 voice-activated microphones.
An experienced team consisting of a technical show caller and a range of operators delivered a seamless hybrid AGM event. 28 people attended in person with 35 remote delegates.
What is a hybrid event?
A hybrid event combines the best of live events and virtual events. You can take your event to the next level by seamlessly blending live and virtual audiences into one event experience.
Perception is one of London's pre-eminent event production companies, bringing together our robust live event services, and our innovative virtual offering.
Are you ready to expand and engage your audience?