STUDIO HIRE IN LONDON
VIRTUAL EVENT STUDIO HIRE | TURN-KEY LIVE STREAMING EVENT SPACES FOR HIRE
Two comprehensive studio spaces with outstanding facilities and supported by dedicated production services to cater for all virtual and content capture projects.
STUDIO BRAVO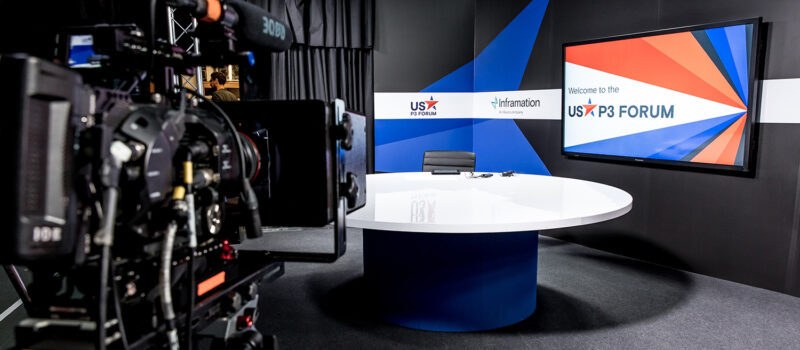 Studio Bravo is a versatile live streaming studio hire space. This environment converted from a high vaulted event warehouse caters to a range of virtual formats. This includes corporate, conferences, live shows, training sessions, filming, and events. It is also used for live music performances, cooking demonstrations, and video shoots. The studio hire space is large and adaptable to most projects. The appearance uses effective and easy-to-install branding. A large integrated control room services the studio for instantaneous production requirements. 
75 sqm flexible studio space
Ultrafast 1gb uncontested internet
11m backdrop with magnetic branding
Onsite production services and staff
Front and rear truss lighting grid
63 amp 3 phase power onsite
Wardrobe and kitchen facilities
STUDIO ALPHA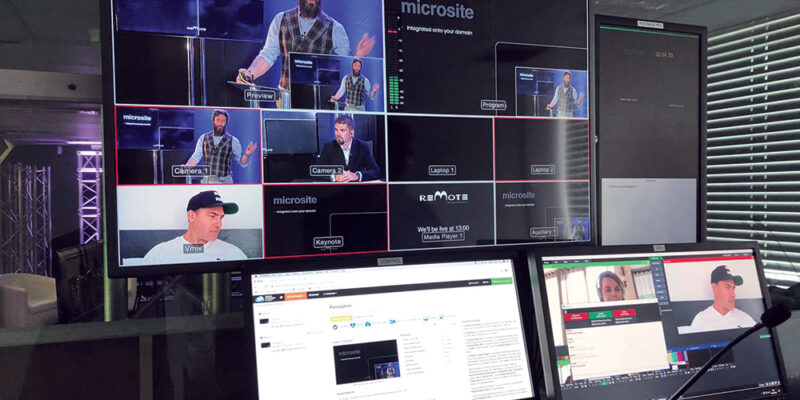 Studio Alpha is designed for single-person presentations, one-to-one live discussions, and panel tables. Beautifully suited to Green Screen, the studio also offers video playback and is suited to demonstrations, lectures, educational training sessions, and corporate video shoots. The layout is versatile and accommodates multiple backdrops and client branding as required.
42 sqm flexible studio space
In house production services
In house audio visual hire
GREEN SCREEN
A green screen is a visual effects system where two videos or images are layered together. You can showcase your content as well as a presenter at the same time.
Why green?
Technically any colour background can be used, however, the green used is a vibrant, solid, and distinct colour that typically provides a contrast to your presenters' clothes, eyes, hair, and accessories.
How much does it cost?
Every project is unique but our core value package covers all of your essential requirements:
Studio A hire
Perception Studio facilities
Green Screen – 2.75 m x 3 m
Truss lectern
Digital audio desk
Streaming rack
4 LED light panels
4 Radio microphones
8 Wired show comms
Reference monitor
Camera operator
Audio technician
Streaming engineer
Video technician
Onsite Services:
Live streaming technical consultation
Live and Pre-recorded Filming
Set design, building and branding
Content design and Management
Microsite and Digital Product development
Graphic design and animations
Presentation design and creation
Audio, lighting and visual production and equipment hire
Staffing Supplied:
Broadcast and streaming engineers
Audio, Lighting and Video technicians
Virtual Event Managers
Camera Operators
Content Designers and Creators
Show Callers
Show Callers and Producers
Set Designers and Builders
Autocue Operators
ADDITIONAL SERVICES:
Our all in one production solution:
Rapid Covid-19 testing
Project Management
End-to-end encrypted streaming
Pre-recording facilitation
Multi-camera vision mixing
Incorporating multiple remote calls and content
Infographic design and video editing
Presentation production
Mobile streaming facilities (stream from your venue)
Presenter hire
Dedicated account management
Set design and build
Fill in the form below for studio hire, to arrange a visit, or to talk to us about our production services.